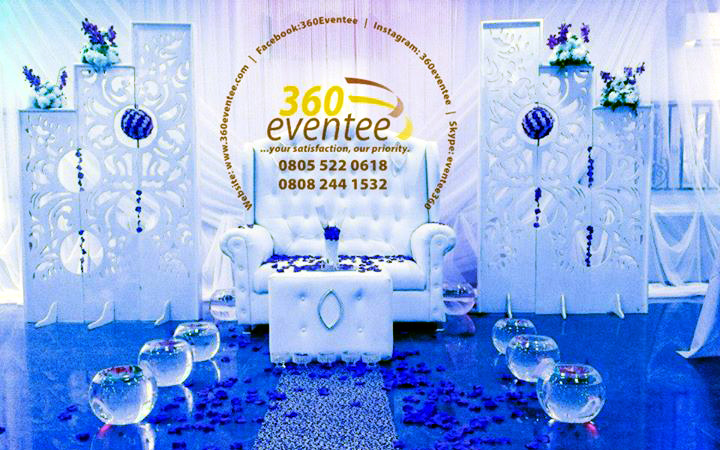 Many people make the mistake of thinking that only rich individuals and state personalities or celebrities hire wedding planners to organise their weddings. Nothing can be farther from the truth. In fact, such people question the proprietary of hiring professional event planners where they think a piece of paper and pen should complete all the wedding planning processes. Well, they are dead wrong.
And in actuality, it is such untutored people that break down and cry on their wedding days when everything go wrong and they are shamed in the presence of their guests – the food is bad; the tailor didn't sew the wedding gown to specifications; the event venue got occupied by other partiers; the photographers couldn't deliver the wedding pictures and videos because they suffered an unforeseen accident; the groom arrives late and ruffled; the parents arrive after the wedding because they missed their ways; the guests leave in annoyance because no one attended to them; blah-blah-blah – and the bride breaks down in tears for the failure of the wedding programme – because she didn't see the necessity of hiring a professional wedding consultant.
Don't ever be misled into thinking that you don't need a professional wedding planner unless of course you and your husband/wife-to-be want to be wedded at your backyard with no one in attendance. The following are therefore some reasons why hiring a wedding consultant is crucial to the success of your coming wedding:
Professional organiser: Wedding planners are professional consultants, and they understand everything there is to know about various weddings. You've never done one before, but they have done hundreds for successful couples and this is what they do for a living – making your wedding day the best memorable day of your life for yourself and your guests. Wedding planners are professional organisers and they are able to sync all aspects and requirements of your wedding celebrations seamlessly into one another without any glitch whatsoever.
Creative designer: Wedding planners are creative people, and they are very resourceful on wedding events. They can foresee events and know how things will pan out; they can make arrangements and analyse how it will impact attendees. They are the best at designing programmes and events and ceremonies and everything from wedding dresses to wedding venues to caterings and guest satisfaction among others. They are good at designing creative programmes and making them happen the way you just desire it.
Budget adviser: Do not think you spend more by hiring wedding planners, in fact you spend less. They are budget advisers and help you reduce wedding costs. They know what to buy and where to buy them for cheap; and they know alternatives that could help them reduce undue costs further. They have the contacts from whom they buy cheap, and they advise you on what is necessary and what is not.
Etiquette expert: Wedding planners have planned or organised hundreds of successful weddings in their career, and many happy couples owe the success of their weddings to their skilled expertise. You can enjoy your personal carriage and the way you conduct or carry yourself that day courtesy of the trainings and priming of wedding consultants. You learn wedding etiquettes and social behaviours that endear you to your guests on that day, and you must thank your planners if you receive a lot of smiles and hugs from everyone on that day.
Decision maker: You don't need to bother yourself about decisions or how things will work out on that day if you have a dedicated wedding planner in position. In fact, your friends and parents must go to sleep if a quality wedding planner got you covered, and the reason for this is because he/she thinks on your behalf, runs your errands, cover your backs, bears your risks, and gives you the crown on that D-day.
Conflict and crisis buffer/saver: You save yourself a lot of stress and trouble when a dedicated and expert wedding planner is in control. They have the capability to withstand stress and buffer crises, and they have a large capacity to hold out when things go out of line. Most of the things they endure or put up with will drive you crazy, and this is why you must put everything in their hands and go to sleep concentrate on fattening up yourself for the wedding day.
Do you have a wedding planner in mind for your coming wedding or social engagements? Contact 360Eventee today and enjoy the benefits of having a licensed and dedicated wedding consultant cover for you in preparation for the great day.